Why it had to be neon
25hours Hotel Langstrasse: a microcosm between banks, prostitution, art and capital
Worlds collide in the immediate vicinity of Zurich Main Station, at the junction of Langstrasse and the hypermodern Europaallee. Red high-heels and fishnet stockings meet ties and tailor-made suits here. Inspired by these contrasts, the 25hours Hotel Langstrasse has created its own little universe at this point. The hotel is a pawn shop if you don't have enough Swiss francs for overnight accommodation. It is gallery for constantly changing artists with a variety of styles. And it is a culinary hot-spot where you can enjoy the world of oriental cuisine.
Neon is more radiant and is stylish - that fits in perfectly with the red-light district
"It has to be neon", said Anita Vogler, General Manager and driving force of the 25hours Hotel Langstrasse, before placing the order. "Neon is more radiant and is stylish – that fits in perfectly with the red-light district and our concept." When the project manager of Frontwork heard this idea, his initial reaction was: Don't touch it with a bargepole! Installing unprotected neon tubes under high voltage on a facade where they are exposed to wind and weather is a particularly challenging task.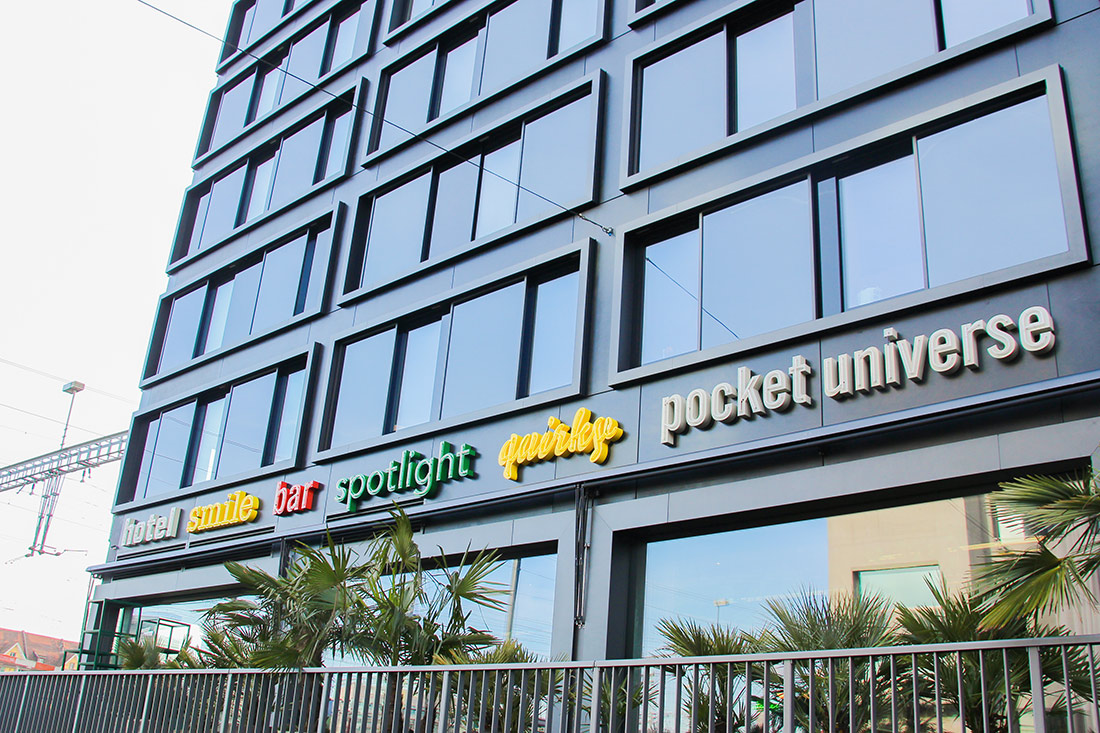 Reconstruction with the hotel open for business
The project started two years ago. Around 1500 metres of cable, 1300 pipe brackets, 455 working hours and 270 neon letters later, the "Chreis Cheib" as it is colloquially referred to now has another hotspot.
A few bright ideas were needed to pull off the project successfully. The neon letters could not be attached to the façade as planned. A specially developed substructure now bears the weight. The specialists from Frontwork had to open the façade while the hotel continued its normal operations, in order to attach the letters.
An unconventional solution was required for installation of the transformers. Assembly in the interior was desired, which would only been possible with laborious core drilling. Frontwork and the customer therefore opted for a variant in which the transformers would be accommodated in the ventilation panels in the pillar coverings.
A "bit of a struggle" which was well worthwhile
The sign is a cutting-edge visual and architectural achievement: 25 laminated glass panels are installed on the roof as single letters. The elements are individually illuminated with LED modules and can be easily seen from a distance. The entire installation looks like an additional floor. Maintenance is simple, thanks to rear access from the roof.
The hotel is delighted with the result. "It was a 'bit of a struggle' and required perseverance, but something strikingly beautiful came out of it in the end", says Anita Vogler. "Michael Bellen of Frontwork with his invaluable expertise was at our service for the entire period. We would never have managed this amazing technical feat without it. Thank you very much!"